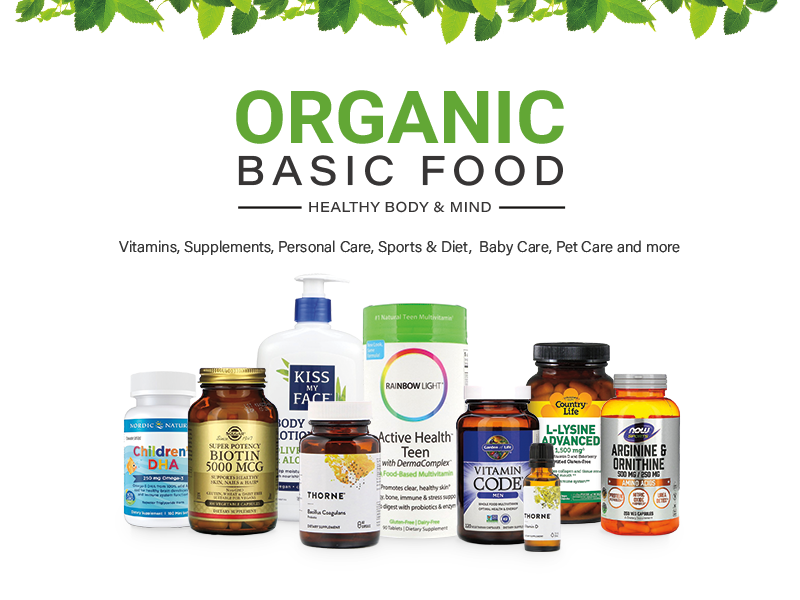 We're all about that healthier lifestyle
Organic Basic Food is an American organic food and specialty store, specializing in healthy and natural products. Our goal is your health and well-being.
About our national web store
Now you can order your favorite products from anywhere within the United States at any time and have it delivered directly to your doorstep. We employ the same methodology as in our local store in curating our products so that they are of the highest quality, and meets your healthy life-style standards. Large selection of product categories including but not limited to: vitamins & nutritional supplements, personal care products, pet care, specialty diets, to essential oils, herbal teas, and more - we do our best to make sure you're getting products of the highest quality.
We strive to provide quality products at the lowest possible prices. If you see a lower price elsewhere, get in touch with us and we will do our best to match it! We are adding new products consistently, so please check back often. We also discount our products regularly, so check our Deals and Clearance section frequently!
About our Hoboken store
Live around our Hoboken, NJ location? Order Local Delivery
First opened in 1995 in Hoboken, New Jersey, our Hoboken store is one of the first organic food and specialty markets dedicated to serving all-natural products and providing simple and healthier alternatives for the body and mind. Our passion is to help our customers live a healthier and well-balanced life. Our objective is to continue sharing this message and to promote a healthier lifestyle for all.
100% Organic
We procure a wide selection of organic products from safe, and environmental conscious sources. All of our produce at our store is 100% organic and we emphasize this concept throughout our entire inventory of products.
Keeps you and your loved ones healthy
Our natural and organic foods and products are free from artificial chemicals or preservatives. From vitamins & supplements, personal care products, and healthy snacks to fresh produce, you can rest assured that it will complement your healthy lifestyle.
Always Fresh
Find fresh foods and products at our store at low prices. We strive to maintain our inventory of organic produce at its maximum freshness. Come by our store if you're near by, or order online for local delivery.
Safe from pesticides
We will never compromise on quality. All produce we carry are free from harmful chemical ingredients such as fungicides, herbicides, insecticides, and so on.
Organic Basic Food is dedicated to be a partner in your journey to a healthier lifestyle.